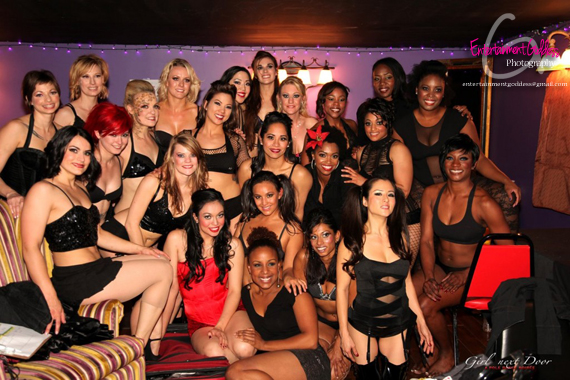 Naturally, when Girl Next Door announced it would be premiering in Dallas (March 2012) this was a great new opportunity that offered our pole community a sense of performance fulfillment…without the stress of competitions. Competitions are rewarding but they aren't for everyone. So a pole showcase to pull together our Texas pole talent was definitely what we needed! I skipped the auditions because I didn't feel I was ready, however I was still lucky to be involved in the event doing something else that I love: Photography!
It was an honor and inspiration to be at the GND Texas event photographing all of the stunning performances. If you missed the event or if you just want to reminisce then be sure to check out the photos from the amazing event.
About Girl Next Door – A Pole Dance Soirée 
About Girl Next Door is a monthly production that combines the sensuality of pole dance with the fanciful medium of theater to create a new aesthetic: artistic pole dance. Featuring some of the country's top-ranked pole performers, Girl Next Door is LA' first-ever and longest-running artistic pole dance revue. The Spring 2011 season kicks off March 6th and promises more scintillating storylines, aerial acrobatics and a new cast of talent who will redefine your perceptions of pole dance.
This show explores the sensual side of the everyday woman, as the cast's professional backgrounds range from electrical engineer to school teacher, publicist to business owner and everything in between. Each performer brings a unique character to the stage, taking audiences on a sensual journey through a series of performance vignettes featuring a variety of aerial apparatuses, including pole, lyra, tissu, trapeze and chandalyra.