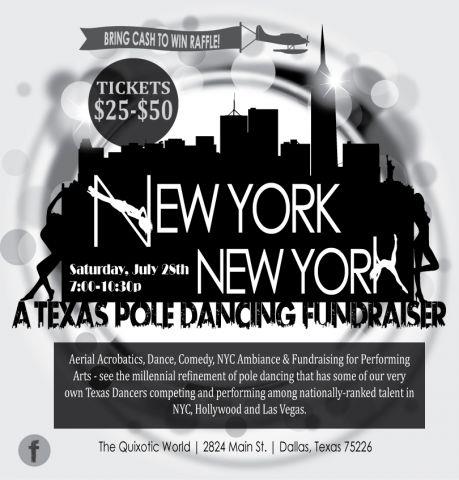 So as the pole community continues to grow, we are seeing various avenues that dancers are taking. While still a form of fitness for many, others are turning their attention to teaching, competing, showcasing and more. Pole dancing has also become a gateway into other aerial arts such as silks and hoops. While competing and teaching may not be the next step for many (like myself), showcasing our skills is something that is definitely of interest.
Sadly the July Girl Next Door Event had to be put on hold (although the March GND Texas premier was magnificent!). So the awesome Karen Possessky came up with a great idea to host the New York New York themed pole fund raising event. The New York New York event is an opportunity  to showcase Texas pole talent, while raising money for Texas Pole Dancers that are interested in competing. The New York New York pole dancing fundraiser is right around the corner, so be sure to get your tickets.
Event Details
Aerial Acrobatics, Dance, Comedy, NYC Ambiance & Fundraising for Performing Arts – see the millennial refinement of pole dancing that has some of our very own Texas Dancers competing and performing among nationally-ranked talent in NYC, Hollywood and Las Vegas.
Bring enough dough (cash) for the 50/50 raffle so that the Godfather doesn't need to have a sit-down with you after the show. Respect the family.
Purchase tickets in advance at: https://www-texas.ticketbud.com/nyny 
The Quixotic World
2824 Main St, Dallas, TX 75226, USA
July 28, 2012 7:00 pm – 10:30 pm
Follow the event on Facebook for sneak peaks, after party info and event updates: https://www.facebook.com/events/414346181939876/
Questions about event tickets, email klpossess [at] aol.com.