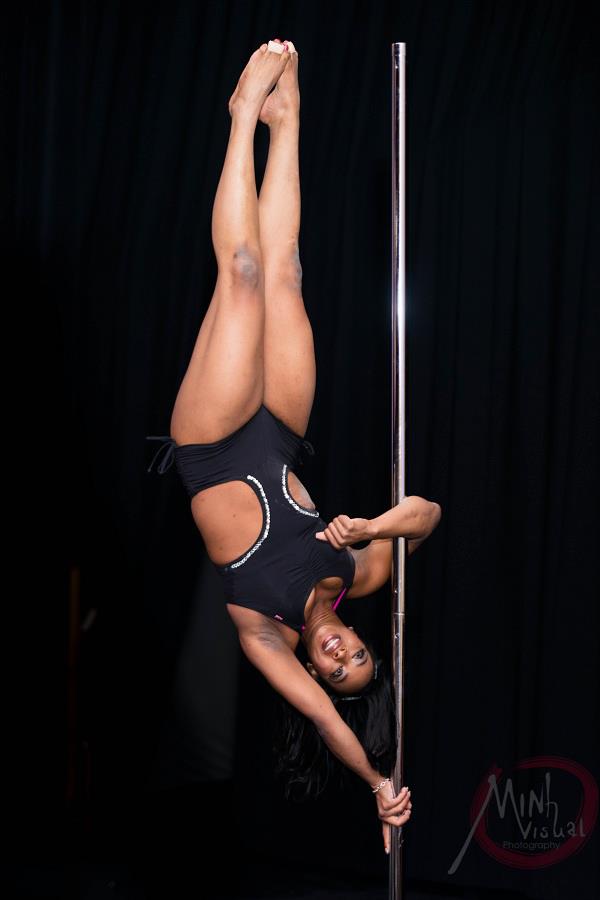 I think I'm definitely starting to get addicted to the pole competition scene. I remember telling myself after my first competition (back in 2011) that I would never do it again…but somehow I found myself drawn right back to competitive pole. It's almost crazy to think about the weeks and months we spend putting wear and tear we put on our bodies (not to mention the stress and mental anxiety) just for 3-4 exhilarating minutes on stage. Yet there is just something about the challenge, growth and budding confidence that makes competing so addictive.
Just a few weeks ago I competed in my third major pole competition and I feel that it was by far my best competitive performance yet. I felt so much more prepared and confident this time around, so much so that I plan to start training more competitively to see what I can really do with my pole career. That means upping my workouts with my trainer, dropping 20 more pounds, diversifying my pole classes to encompass more training in my weaker areas and even more stretching/flexibility work.
In addition to training on and off of the pole to prepare my body, I'm also spending time studying a variety of competitions and past winners to gain some insight on what it takes to become a winner. What I've realized is that there is definitely a formula to being successful at competitions and I think I'm well on my way to figuring it out. So, in addition to my fitness journey, I will also document and share my competitive pole journey here with you! It's been interesting to see my progression thus far and I'm looking forward to being able to compare my future self to my current self.
1st Major Competition – 2011 Miss Texas Pole Star (Amateur Division)
Tryout Routine:
httpvh://www.youtube.com/watch?v=5EA57vjY1rE&feature=share&list=UUb2s2rCtOlPHsHhOE1YND4Q
Competition Routine: I actually don't have a recording of my first competition back in 2011…I've been trying to find out if anyone recorded it but it doesn't look like it. I do however have my tryout video (above) for that competition, which still shows my "inexperience" lol.
2012 Miss Texas Pole Star (Fitness Division) – I didn't make the finals but below is my tryout video.
httpvh://www.youtube.com/watch?v=6wTaki8ifLo
2nd Major competition – 2012 Southern Pole Championship: – Tryout Routine: No tryout video required. My competition performance is below.
httpvh://www.youtube.com/watch?v=rn4Lpt8yxkA
2013 TGR St. Patrick's Day Competition – This was a smaller competition here in dallas that I did for fun. I was actually preparing for my MPDO competition and didn't have time to properly prepare for this one, so I actually ended up just freestyling.
httpvh://www.youtube.com/watch?v=6zwHYEgTZl4
3rd competition – 2013 Miss Pole Dance Oklahoma:
Tryout Routine:
httpvh://www.youtube.com/watch?v=jkGrwNEpglQ
Competition Routine:
httpvh://www.youtube.com/watch?v=dxj7IbpIra8