Fake It Till You Make It
Long, strong, healthy nails: you can fake them or you can make them! For more than ten years, I've been faking them. As a dedicated consumer in the nail salon industry, I can only imagine the small fortune I've given away while simultaneously damaging my own nails beyond recognition. I jumped on the acrylic nail bandwagon shortly after high school because I desired length and strength, and I was on that "instant gratification" plan. As a result, over the past decade, my nails have slowly been deteriorating underneath vibrant, glossy layers of acrylic powder and gel polish.

The Early Days
Let's go back, back into time. As a child, I was a nail biter and for as long as I can remember, I always had short nails. Initially, it was probably because I was biting them off and later in life, well, maybe it was just a side effect of my nibbling tendencies.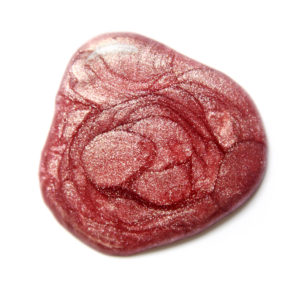 While I had no nail health education or understanding, I did have an appreciation for nail polish and regularly kept my nails glammed up. As I got older, my shorties stayed short and my self-esteem had me feeling some kind of way about them. Like most other teenagers/young adult females, I began to analyze all that was me and compare it against the images from the media of what I
thought I was supposed to be. I didn't feel like a real girl (whatever that is) with my short nails. I felt like they had to be long and "sexy".  I gave my nails power over my hands and power over me. Longer nails make me feel more womanly and more attractive, so I just had to have them.
Fast Forward
After spending so many years killing my nails softly, I was left with nails that would get semi-thick but remain short, or that would grow long (only underneath tips that had to be carefully removed) but be almost paper thin. I realized how counterintuitive getting acrylic nails was and so I jumped ship to getting UV gel polish, although that turned out to be just as harsh on my nails. The removal process for the gel polish requires soaking and drilling of the topmost layers, which still left my nails extremely thin. Another deciding factor was my history of bad breaks. Many times when I broke the acrylic I also broke my nail across the nail bed. The pain, the bleeding and the healing time for these breaks are a nightmare (especially as an aerialist and fitness guru). Deciding I had to get off this roller coaster, I made a decision to go natural.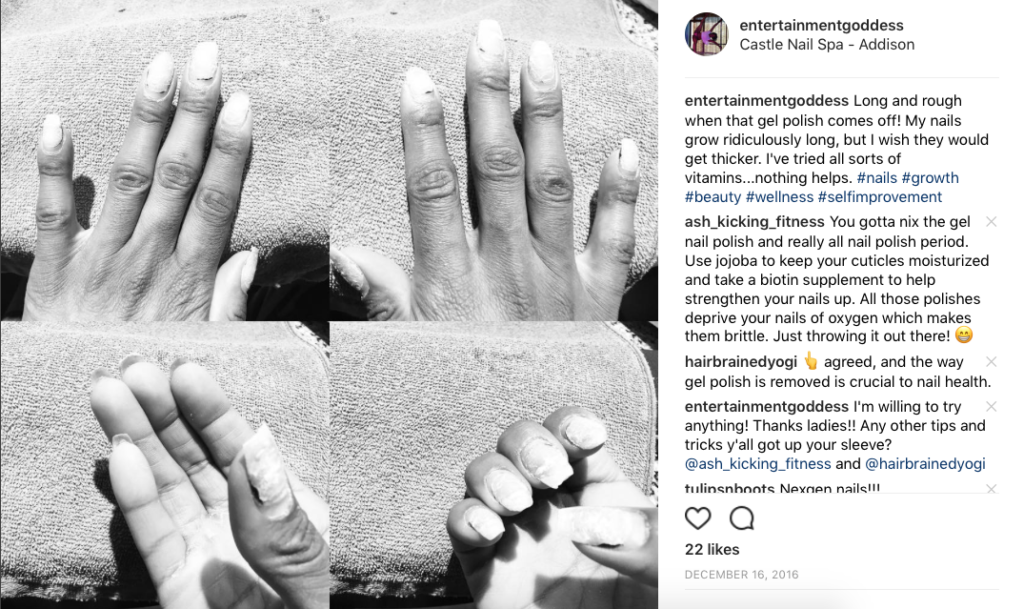 New Beginnings
I set Nail Health as one of my 2017 goals, with the hope of getting my nails back to a healthy, strong status. This required me to make a long-term commitment to the goal of natural healthy nails and give up fake nails and gel polish indefinitely (hopefully permanently). I have been on this natural nail journey for seven months now and I'm quite satisfied with the results and mad at myself for not having made this change sooner. Basically, I went cold turkey. I started off by maintaining my last round of UV gel polish on my own. Each week I would file my nails down to try and keep them looking natural and seamless. Once I was able to safely remove the remaining layer of UV gel polish, the first thing that I noticed is that my nails were super unhealthy. They were thin, peeling, rough and the color was off.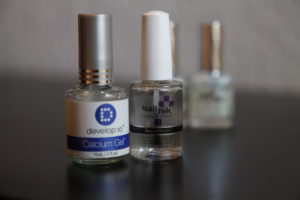 My first milestone was to just get my nails back to a healthy state. I knew my nails had the ability to grow long, so I needed to focus on building a strong foundation. I kept them filed down, very short, and I invested in NailTek Intensive Therapy 4 and Develop 10 Calcium treatments which I  apply on a weekly basis. For the first couple of months, my nails would grow out a little bit and then break, which was fine because I could see the healthy fingernail starting to come in. 
Back to Me
Making the transition back to natural nails was painful…NOT. I always thought that short nails would make me feel different, like less of a woman. I quickly realized that not only was that not true but that I don't really pay that much attention to my nails long or short. I found that the shorties don't bother me as much as I thought that they would. My fear of short nails was all in my head. I am still a strong, sexy woman regardless of my nail length. 
I also came to the realization that not taking care of my own nails gave me an excuse to be naive. Going natural helped me break free of that unhealthy ignorance and required me to learn about proper nail care habits, tools, and products. This process of relearning and caring for my own nails has given me some much needed ME time and resulted in a handful of other unexpected, yet appreciated benefits. Interestingly, I found that I'm saving about $120 a month now that I'm not making frequent visits to the nail salon. I also rediscovered my love for nail polish and remembered my Caboodle full of nail polish that I had as a child – back when the hardest decision I had to make was what color I should choose.
Shorties With A Boost 
Even though I've been enjoying the healthy changes I've seen in my nails, at times I do find myself still longing for some length. I just have this wave of disappointment every time I break a nail, even though I know it's not about winning the battle but rather about winning the war. Much like my hair, I'm like looking into protective styles that are easy to do.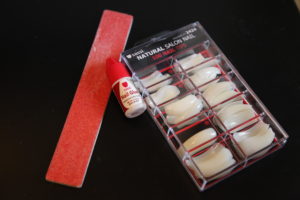 I went out on a whim and purchased some fake nail tips. This was an idea that I got from a friend (Check out #megansmanis on IG to see some of her fun styles). She's really big on nail design and is forever posting creative and perfectly polished digits. In one particular post, she mentioned that she too was tired of her shorties and added some length. I thought I'd give it a go too, as it would be a great way to protect my nail growth without compromising the nail health or thickness that I have been able to achieve over the last few months.  
The Process
Maybe I'll film a quick tutorial at a later time, but I'll quickly walk you through the route I took. I won't lie, it took a little bit of maneuvering and fidgeting initially, but it didn't take too long to get the process down. First, I sized each finger and laid out the tips in order, with a duplicate set for my other hand. Then I actually did a little preliminary filing, that way I wouldn't have to file as much once the tip was applied. From there I put a small dab of glue on the inside of the nail (not much is needed as it easily spreads) and then applied with light pressure to the tip of my nail. After allowing the glue to set and dry, I cut the nails down to the desired length and then filed the top so there were no clues as to where the tip ended and my nail began.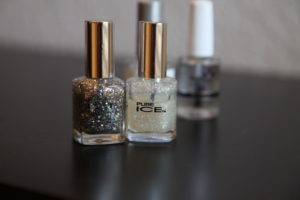 From there, I applied my NailTek and Develop 10 Calcium (still gotta keep nail health and strength as my main focus) and after that, I layered glitter polish on the tips. I used Pure ICE polish (although OPI is my favorite brand) that I picked up at Walmart. Cheap with good quality! I'm happy to say that they turned out rather nice! I'm back to having a little bit a length, but not compromising my own nails in the process – I'm dubbing it: Mostly Natural! And thus the title of this blog post. I'm hoping that this will last at least a week…maybe two if I'm lucky! 
*Between doing my nails and completing this blog, I actually broke one of my nails. I was relieved to see that only the tip popped off without any damage to my actual nail. Usually, with the powder they put on over the tips and UV Gel polish, there's usually a lot more damage. I think by having only a dab of nail glue and polish over the top as the "adhesives" resulted in the acrylic tips not being as destructive to my nails. 
Despite a slight learning curve, all it cost me was a fraction of what a visit to the nail salon would have been. It was $3.99 for the box of tips and $1.00 for the nail glue. Way more cost effective than my typical $120 visits to the nail salon. Over 90% savings and just as nice! 
Photo Cred:
Featured image: Nail Model by jenikahycc.
First image: Polish Drop by Yenhoon
Remaining images by me: Ashley of FlexyFit.co