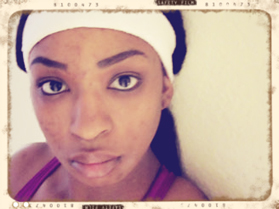 Lately I've been focused on "dealing with work and life" and in turn allowed my own personal goals and feelings to be buried beneath it all. So one of my goals for 2013 is to take better care of myself and do more for me. I think that the only way to transform your outside is to first transform from within…otherwise the outside changes are just temporary. I'm even more determined than ever to finally finish this transformation that I started and to make it a total makeover of both my body and my mind. Recently I came into some "extra" hours in the day which I have declared "ME TIME". By dedicating this time to myself (in the gym) I am hoping to get past my fitness plateu and refocus on my fitness goals so that I can finally drop these last 15-20lbs.
So with the help of my trainer, I've reignited my Finding Fitness Journey to getting fit, fab and fierce with a 45 day challenge. Getting back on track with my fitness started in the kitchen. I had to clean my diet up and eliminate some of those "feel good" foods that had crept their delicious way back into my diet; although I must admit that cleaning up my diet has been easier this time around and my body has happily welcomed back the green foods and endless bottles of water.
Getting my exercise back on track has been a little more challenging – mentally and physically. After we returned pole competition I ended up sick for a month and during that time picked up an extra 6 pounds and 4 inches around the waist. So I'm having to undo that damage just to get back to where I was, and then start back towards my initial fitness goals from there. To achieve this, I've been getting in 3 hours of cardio every day. Some days I split it up into two parts…resting and snacking (healthy of course) in between each session. Other days I just push past and hit all 3 hours at once. Some days I find that it's definitely more of a mental challenge than a physical challenge. A combination of music, movies on Netflix, reading and positive reinforcement all play a part in me getting through my strenuous cardio sessions…but it gets a little easier with each workout.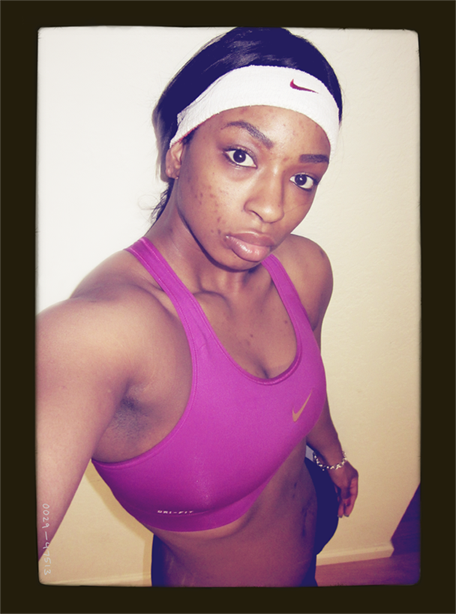 When I started my Fit in 45 challenge I started out at 180 pounds, 23.2% body fat and 34.5 inches around the waist. Not bad considering I was 232 at my heaviest, but I know that I still have room for improvement. Standing at five foot nine I know this body of mine has a lot of potential!
I'm almost two weeks in and I think I can already see some improvements to my body…especially in my mid-section. My tummy is starting to look like it wants to flatten out, I feel less bloated and more shapely and I think I'm actually starting to finally see my once deeply-buried skinny bones (Yay!). For my next weigh-in I'm hoping to be down more than a handful of pounds and at least an inch or two in the waist.
I think what drives me most is that when I look in the mirror, more often I see the person that I want to be and I think that's what helps my determination and dedication. I really see the potential of what my body can be and it makes me want to work harder. I'm also looking forward to being able to finally get that new, smaller wardrobe. Don't get me wrong, I love to shop…but spending money on in-between clothes is really more of a waste. I'd honestly rather get down to the size that I want to be and then treat myself to some new gear.