Okay, so I'm finally starting to recover from this cold that I picked up right after competition. It was like a day of fatigue and extreme tiredness…and then WHAM….I'm sick. But, now that I can sit up straight long enough to type, I thought it would be a great time to recap my time at SPC. So it started off with an awesome road trip – fast food and 4 hours of crunk music…I couldn't ask for a better travel buddy! We made it to Houston safe and in good time, right before the evening traffic started to pile up.
Now, I was initially envisioning somewhat of a mini-vacation, however from the minute we arrived that proved to be so not true. The moment we arrived it was game on. After unpacking and grabbing a bite to eat, I got to unpack and explore the hotel a bit. After that I met up with some of my Dallas pole sisters, and together we got to take a peek at the competition area as they were setting it up. I captured the pic below using the new Panorama feature on my iPhone! I definitely appreciate all of the hard work that went on behind the scenes to make this even a success.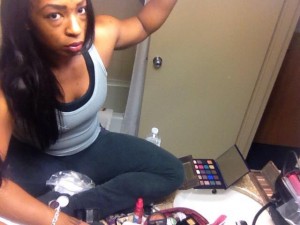 It was Friday night that I realized that I'd spent so much time worrying about my routine and receiving my costume that there were so many small details that I didn't think about and/or let fall through the cracks. I'd completely forgot about makeup…Yikes! I spent a few hours crawling through Pintrest looking for creative ideas for costume makeup and then another hour sitting on the bathroom counter trying them out. Eventually coming across one idea that with the help of Shanna's awesome makeup artist skills I'd be able to pull off. After that it was pretty much bed time as we had an early morning…and boy did 5:30 am come quick. As soon as the alarm went off I was up running! Wireless head phones wrapped around my neck; coffee and sliced in one hand; a yoga mat and my awesome bag of GRIPS in the other hand. We met up in the gym for an early morning warmup and stretch and then headed over to the competition area to get some practice in on the poles.
I went to practice, but what I walked into was a beautiful pole community Facebook reunion! Facebook is a great way for us to cyber-meet each other and keep in touch, but being able to actually meet you all in person, talk to you, hug you and pole with you was so great. It was wonderful to connect with so many of my fellow polers. After getting in some great practice and checking out some incredible warmup moves from my fellow competitors that left me absolutely speechless and inspired, it was off to take a nap. I got in a short nap and then awoke to find some breakfast and get in some more last minute practice! Luckily SPC had arranged for a small, but healthily buffet for us competitors. I had a yummy breakfast of fruit and yogurt then headed off to practice and stretch.
When I wasn't practicing, I was watching my fellow poles in support (there were various categories competing throughout the day), going through the routine in my head, stretching and trying not to freak out. Eventually I knew it was time to start getting ready so I headed to my room to shower and pack up my pole bag, then headed back downstairs to check in and watch some more of the competition. In between competitors I started working on my makeup, continued my stretching…as my nerves started raging out of control. Somehow I managed to get ready and check in. Behind the stage as I waited for my time to go on I honestly just tried to zone out…even though the excitement in the room made it so hard.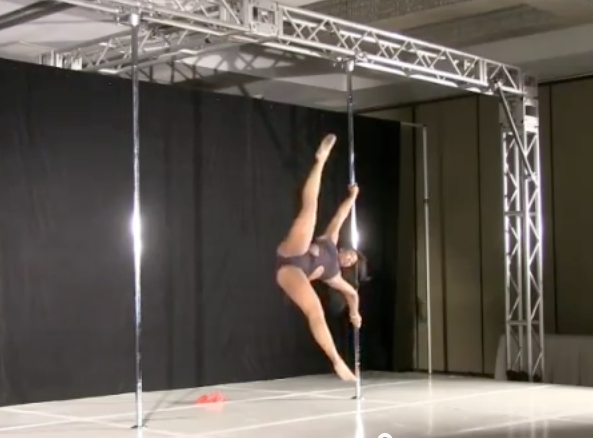 Then…it was my turn. Now, I'm not sure how I made it to the stage…or off of the stage after my routine. Honestly it was one big blur. I was so nervous that I totally forgot my first sequence once my music picked up and I had to wing the first trick. Coming out of that first trick my mind came back to me and I was able to pick it back up and get on track. Although I think I may have rushed my routine a bit, because there were at least 2 tricks that I added in as I was going along because I realized there was "more song" before my next planned pole run.
All I remember were bright lights and lots of screaming in the audience. Somewhere I made it through my routine and once I got back behind the stage I just had to layout in the floor lol. Looking back I wish that I could have been more relaxed and less nervous…I mean I have better FreeStyle Fridays!
Even though I was very disappointed in my performance, being at this competition was an unforgettable experience and it has given me even more drive to step up my pole game. I am so grateful that I was even able to share the stage with so many talented people…people that I look up to. There was so much love and support being shared – behind the stage and from the amazing audience. Before and after I came off the stage there was a stream of comforting hugs and supportive, encouraging words. I mean sooooo many people: my trainer, my <3, Shanna, Jennifer, Luki, Shay, Stacy, Rashida…and so many others!
So once I let my nerves settle, I was able to watch the last few performances. And I think I found my new pole idol in Rhiannan Nichole…the videos I'd seen online didn't do her justice. What an incredibly talented dancer she is. I saw so much of what I want to be in her. After all of the performances were over, I got to watch three amazing ladies: Crystal B. Brynn R., and Luki M. be deservingly crowned for their beautiful routines. And of course after that it was time to eat and sleep. We feasted on Taco Bell (terrible I know…I'm paying for it now but I promise to hit the gym extra hard as soon as I'm over this cold).
All was said and done, I came home with more drive and determination, even more inspiration, some awesome swag, a little more experience under my belt and some priceless memories. What a fun, intense, stressful but super fulfilling weekend!
Sooo…while this was far from my best performance, it was a great experience and a good way for my to show off my growth and progress since my MTPS competition last year. My technique was bad, some of my moves seemed rushed and I forgot some of my choreography but I gave it my all. My goal going in was just to be remembered…hopefully I accomplished that. Once I am able to get back to the studio I know that there is lots of work to do, but I am looking forward to it…and to my next competition. So, without further ado my performance at SPC:
httpvh://www.youtube.com/watch?v=rn4Lpt8yxkA