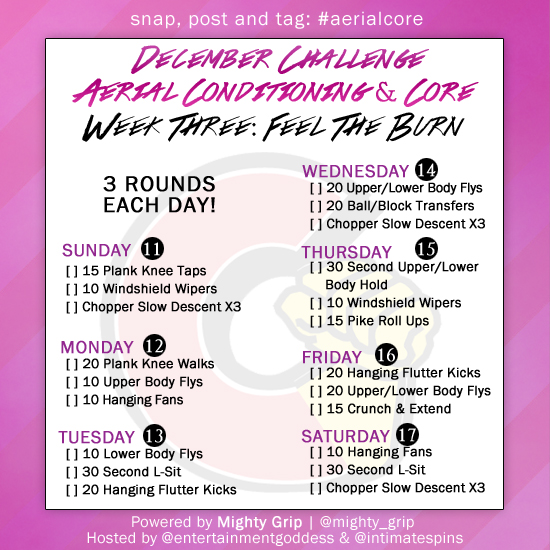 Week three is upon us! Last week had some serious challenges, but we made it! I don't know about you, but I'm already starting to see the gains and benefits of this focused core push. This week we're incorporating some back work. It's important to work opposing muscles and the back is very much a part of your core. This should make for a nice little change in pace and get us one step close to AB-Domination!
Hopefully by now you're following both me ( @entertainmentgoddess ) and @intimatespins (my talented co-host) on Instagram. If not, be sure to hit that Follow button because we like to share additional tips and tricks to help you with form, variations and training gear you can incorporate into your ab workouts.
If you're ready to get started on week three then check out the video below for a quick overview of this week's core exercises.
httpvh://youtu.be/ixETJwXhVn8
To participate:
1. Follow @entertainmentgoddess @intimatespins and our amazing sponsor @mighty_grip
2. Help us spread the word (PLEASE) by sharing this post. Be sure to tag your friends so they can join you on this journey, and so you can have an accountability buddy!
3. Grab your camera and document your progress over the next 31 days. It's going to be one wildly awesome ride!
4. Don't forget to snap, tag and post because TWO lucky participants will get hooked up with some mighty sweet swag from @mighty_grip that will aid you on your aerial endeavors!