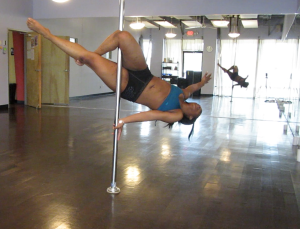 Stress and soreness have taken over my life and my body over the last few weeks as I've been preparing for competition. I was surprised and honored to find out that I was accepted as a finalist in the Miss Pole Dance Oklahoma competition (next weekend) and then I decided to also enter a local competition going on this weekend…thinking it would be great practice. Let me tell you, this competition stuff is HARDWORK. I feel like I'm walking a very fine line between training and torturing my body. Every time I practice I feel like I hurt or pull something else…which only adds to my stress and pre-competition jitters. On top of that I've been trying to finish my weight loss goals because I really feel that it will help me in my pole work. I'm down 10 pounds but I still have another 10-15 to go.
I can only wonder how the pros do this day in and day out. I mean, they are always on the go – training, working out, offering workshops and private lessons, judging competitions, doing appearances and photo shoots…etc. How is it that they push past the hurt and the pain to still perform beautifully and motivate their fans and students? I know I've been struggling to find the proper balance of rest and practice, while trying to stay focused and motivated for my upcoming competitions. Then yesterday Natasha Wang responded to my struggle with her pre-competition tips….OK, well it wasn't "for" me but her words were right on time. Knowing the way that I've been feeling, I know that there are many others that are in competition prep mode that are feeling the same way. Her experience and guidance was right on time for all of us. I knew that I needed to share these tips as soon as I read them and so I wrote to Natasha seeking permission to repost…and she said YES! I am so grateful to pros like Natasha Wang that take the time to encourage us. It is so important for us to grow as a pole community by sharing experiences, insight and support!
Natasha's Pre-Compeition Tips
Having been there a few times, I know how nerve-wracking it is preparing for a competition. All those sleepless nights dreaming of choreography, the countless bruises and muscle strains, and our significant others wondering when they'll have their wife/husband/girlfriend/boyfriend back! So I wanted to share a few pre-comp tips for those of you in the home stretch for Pole Sport Organization's PPC in Los Angeles this weekend. I'll be rooting for ALL OF YOU this weekend! Bring it!
1) Don't make the mistake of thinking it's best to take the last few days off before a competition to 'rest' your body. Yes, take it easier – no more marathon 12-hour training sessions – but remember to run your routine at least twice per day in the days leading up to the comp so the movement is fresh in your muscle memory. It's also important that you focus during these training sessions. Instead of spending 2 hours mucking around on the pole before you run your routine, thus wasting what valuable remaining energy you have, once you arrive at the studio, do a proper warm up, put on your music, turn on your video camera, and GO! Refine the passes and tricks AFTER you've done your run-throughs and can evaluate your performance on camera.
2) Make sure and run your routine in full, in costume, to ensure there aren't wardrobe malfunctions. And if there are, there's boob tape for that. No excuses for point-deducting nip slips — or worse — on stage!
3) Visualize your routine every second you get. In the car, in the shower, before you sleep, in the loo…lots of studies have shown that visualization dramatically improves your physical performance…and you can do it in your pajamas.
4) Eat properly the day before and day-of the comp. If you're competing in the morning, eat a carb-heavy dinner the night before and a light, easily digestible breakfast 2-3 hours before the comp (my mainstay is oatmeal on day of comps). If you're competing in the afternoon, eat a hearty breakfast and a light carb-based lunch 2-3 hours before you hit the stage. If you're competing at night, have a hearty breakfast and lunch, and a snack 1-2 hours before performance. Some good tips can be found here: http://sportsmedicine.about.com/od/sportsnutrition/a/EatForExercise.htm
5) Pack up your competition bag the night before. Make sure you have your costume, grips, snacks, bottled water, boob tape, post-comp outfit, warm-up sweats, yoga mat, iPod with music, foam roller, etc.
6) When you're at the event, be nice to your fellow competitors backstage and help create a supportive, convivial atmosphere. No cattiness or competitiveness! This will help you GREATLY in reducing pre-performance jitters, and thus will help your on-stage performance in the end.
7) Before you go on stage, reduce nervousness by taking slow deep inhales and exhales. I also always remind myself that I am so lucky and blessed to have a healthy, functioning body when there are so many in the world who do not. Celebrate how blessed you are by giving the judges and audience your everything on stage.
8) Finally, once the results are announced and if they are not to your liking, do not ruin the triumphs of your fellow competitors by saying you were robbed, or the judges' decisions were flawed or biased. We've all felt the disappointment of not doing our best, or not winning that trophy, but a sore loser isn't inspirational for anybody. If this wasn't your time to stand on the podium, use this as ammunition for your next competition, to work harder and more focused! Hard work will always be rewarded – even if it's not a trophy, it's the satisfaction of knowing you did your best (and having a killer video for YouTube.)
And if today was YOUR DAY, celebrate! And make sure you thank your choreographer, home studio, trainer, costume designer, friends and family, because they've all helped you get there.
Good luck everyone!!!!
About Natasha Wang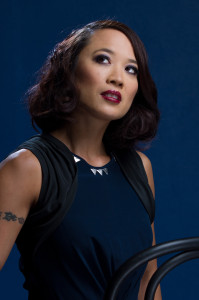 I came into pole dancing purely by accident. In 2004, a girlfriend who'd seen pole dancing on Oprah dragged me to an intro class at S Factor. I'd never been comfortable with exhibiting overt sexiness, so it wasn't exactly love at first fireman spin, but it was a titillating curiosity; a little secret I could hide under my work clothes and my public-facing good girl persona. I don't have a gymnastics or dance background, so pole dancing was also an opportunity to be that dancer I'd always fantasize being — without any of the judgment or pressure to be perfect.
I joined Leigh Ann Reilly's Be Spun gym in 2008 and saw what was possible with the human body. Women and men contorted into unimaginable shapes, instructors and students seemingly levitated. These human beings were achieving the impossible – and I knew I wanted just a little bit of their superpowers. I began training every day, several hours a day.
What started off as something I did with friends for fun once a week, turned into a full-fledged love affair. I began competing in 2009 with little fanfare. Then I joined the cast of Kelly Yvonne's Girl Next Door show and discovered the art of pole, in which emotion, storytelling, physical prowess and vulnerability came together on stage to create something magical: pole art. Under Kelly's mentorship and coaching, I started winning my first titles — first East Meets West/Tri-Pole Challenge's "Miss Pole-AM 2010," then the 2010 California Pole Dance Championship followed by the USPDF West Coast Championships that same year. This past April 29, 2011, I cinched the USPDF National Championships title. Since then, I've put my nine-year career as a publicist on hold to embark on what surely will be a strange, surreal journey that will take me around the world. I invite you to join me on the road as this self-professed 'regular gal' starts a new chapter of her life.
Visit Natasha's website at: www.natashawang.com
Check out Natasha's Fan Page on Facebook at: http://www.facebook.com/NatashaWangPole