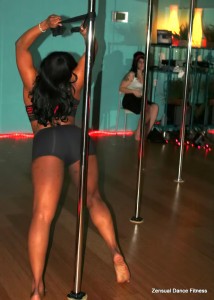 Many of us are still trying to find our groove when it comes to freestyle dance. I hear the words: "I can't freestyle" all too often from my pole sisters. And heck, I've even said them before myself. But I'm here to tell you that you CAN freestyle. If you would have told me a year ago that I'd be free styling and loving it, I would have given a hearty laugh and called you a liar, but to my surprise it is actually true! Now, I'm not saying its been easy…or pretty but it is possible. So I want to share with you 5 tips to help on your freestyle journey. I hope that you use these suggestions to help you find your freestyle and develop your own dance style.
1. Stop Looking At Everyone Else and Don't Copy. This is especially true when you are recording a group freestyle. YOUR freestyle comes from within. So don't let yourself get distracted by others and what they are doing. I know it may be hard, but fight the temptation that you may feel to emulate what you see or compare yourself to those around you. Now there's nothing wrong with getting ideas from others and making it your own, just don't try to copy someone move-for-move…it rarely comes out the same. And in some cases it may leave you feeling a little disappointed. I like to say "Observe, don't obsess." If you see someone do something that you like: observe. Point point what you really like about it. Deconstruct the trick, transition or flow and then make it your own. It will look a lot better in the end if you do it your own way.
2. Dance Often. Practice makes perfect and the only way to improve your freestyle dance is to practice. I suggest that you dance daily if possible. Try out different music and different movements. Don't feel like you have to do a full routine every time. Maybe you're at home cooking or doing laundry, just take a moment to go by your pole and do a few spins or dance around it…again, no need for a full production. This kind of impromptu dance can really benefit your freestyle journey.
3. Do What YOU Know. When dancing, I've found that Less is More. Some of my best freestyles have turned out to be the ones that had little to no big tricks in them. "Less is More," keep this in mind when you set out to dance. Don't feel the need to pack a routine with every trick that you know. Be confident in the moves that you know well and execute them to the best of your ability. It is better to see 3-5 beautifully executed tricks (from any level) than to see 10 tricks that are rushed and poorly executed. If your new to pole or comfortable with spins only, then build your freestyle around your spins…and if you want to spice it up then try some on your left side (usually our non-dominant side). Often with routines we might be excited and tempted to throw in something new we learned, but if your still a little shaky with the trick then it can backfire and instead throw you off…so it's best to hold on to it until you can execute it flawlessly.
4. Always Use Proper Technique. Regardless of your experience or level in pole, there is no excuse for poor technique. You should always use proper technique no matter how easy or hard the trick/transition you are doing. Proper technique will also make your overall flow better. Not only does this help your lines, balance and flow, but it will also help you in avoiding injury.
5. Finish Your Moves. This is super important in helping you to achieve clean and balanced dance. When moving up, down our around the pole (floor, chair, mirror..etc) be sure to fully execute each move to its maximum potential. A few key things that you can easily put to work starting today:
You want to elongate your body so be sure to extend through your toes and finger tips.
Don't cut your spin rotations short. Let yourself flow into and out of your spins.
Make sure you hold your tricks. At least 5 seconds is a great place to start. This does not include the time you take to get into and out of the trick.
6. Back Every Move You Make With Confidence. The confidence that you show when you execute your moves makes your dance more believable and shows intent. No matter how well you can point your toes (something I still struggle with), how long you can hold a trick or inversion, how high you can climb, etc…just be sure that you believe in the movement that you do – and your audience will too. Displaying intention and confidence in every motion you make will help you make a powerful and memorable statement in your dance.
7. Have A Safety Trick. This might be your favorite trick, the first trick you learned or maybe just the easiest trick that you know. This trick will be your safety net in your time of need. If you ever come to a point in your freestyle where you just have a total brain fart or maybe if you stumble or fall out of a trick, quickly put your safety trick into action to help you get back on track. Going into this trick will reenergize and refocus you, so that coming out of it you are ready to flow back into your freestyle and finish your dance. The key is to never stop moving!
8. Record and Review. It is hard to know what is working and what is not working if you can't see yourself. Often watching yourself in the mirror while you dance can be more of a distraction, so I strongly encourage you all to record your freestyles. This will allow you to review your dance to see what you like about it, what you want to try the next time or what you want to stay away from (like unpointed toes). Recording yourself also allows you to track your progress. If you're in class then ask your instructor before class if they will record you at the end of class…I guarantee that they will be more than happy to do so. You don't have to post or show your videos but do keep them for yourself and review often. And even if you don't share your videos in the FreeStyle Friday group but want some feedback then again use your instructors – they are perfect for helping your critique your dance and for offering suggestions. (Myself and our FreeStyle Friday Admins: Tricia, Kim and Mindy are available to help as well!)