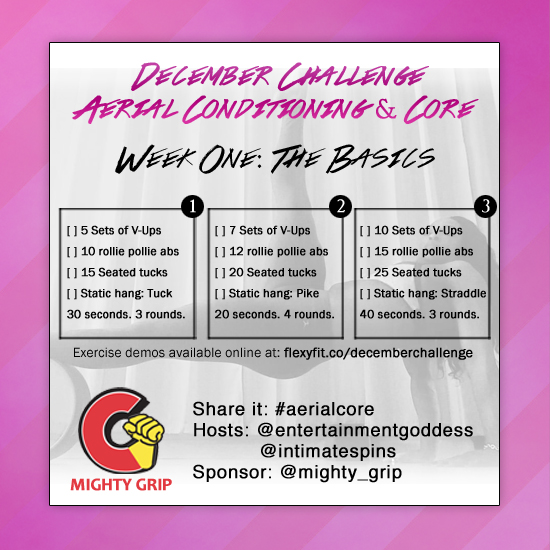 Yay, it's day 1 of the Aerial Conditioning and Core challenge with me and @intimatespins and We're starting with a few key and essential exercises, then we'll build from there. Four core drills today…let's get it!!
1. V-Ups. Start lying flat on your back, crunch up with legs in a tuck, then a pike then straddle. Those three reps equal one set. Complete 5 sets.
2. Rollie Pollies. The life of a Rollie Lillie isn't as easy as it looks! For these abs, you want to keep the abs contracted. Knees and elbows stay together at all times. Roll up from your back and tap the toes on the ground then roll back down. Complete 10 rolls.
3. Tuck crunches. Find that sweet spot on your tailbone, hands behind you with the fingertips facing your bootay. Contract the knees to your chest for a tuck crunch then straighten them back out. 15 reps.
4. Static Hangs. Hang from your apparatus of choice: Pole (strong hold), stall bars, Lyra, hammock silks, bars at the gym, home pull-up bar. Keep the shoulders active. They should be back and down. Do not sink into your shoulders and wear them like earrings. Pull the knees up to the chest. Hold tuck for 30 seconds. Repeat 3 times.
To participate:
Follow @entertainmentgoddess @intimatespins and our amazing sponsor @mighty_grip
Help us spread the word (PLEASE) by sharing this post. Be sure to tag your friends so they can join you on this journey, and so you can have an accountability buddy!
Grab your camera and document your progress over the next 31 days. It's going to be one wildly awesome ride!
Don't forget to snap, tag and post because TWO lucky participants will get hooked up with some mighty sweet swag from @mighty_grip that will aid you on your aerial endeavors!