WOW, this year literally went by in a flash. Can you believe we are on the edge of 2022? I must say that while the last few years have been full of cray, unpredictability and constant adaptation with everything going on in the world, it's somehow led to a lot of growth. And I am thankful for the personal and professional growth I experienced, and I am looking forward to putting all of that growth to good use to be a better woman, a better coach and to continue helping you all reach your goals.
The greatest lesson I learned in 2021 was the value of my peace. There is no person, family member, client, opportunity, goal or amount of money that is more important than your personal peace and your ability to sleep at night.
Learning the value and importance of my personal peace helped me get clear on what really matters, who I am and who I want to be. I happily depart 2021, committed to leaving the baggage here. In 2022 I will continue to eliminate anything and anyone that interferes with my happiness and peace of mind. 
This time last year, I sent a newsletter sharing my 2021 goals with you. I want to be transparent and review my results, while also sharing some of my intentions for 2022. Check out the screen capture below of my 2021 goals that I shared.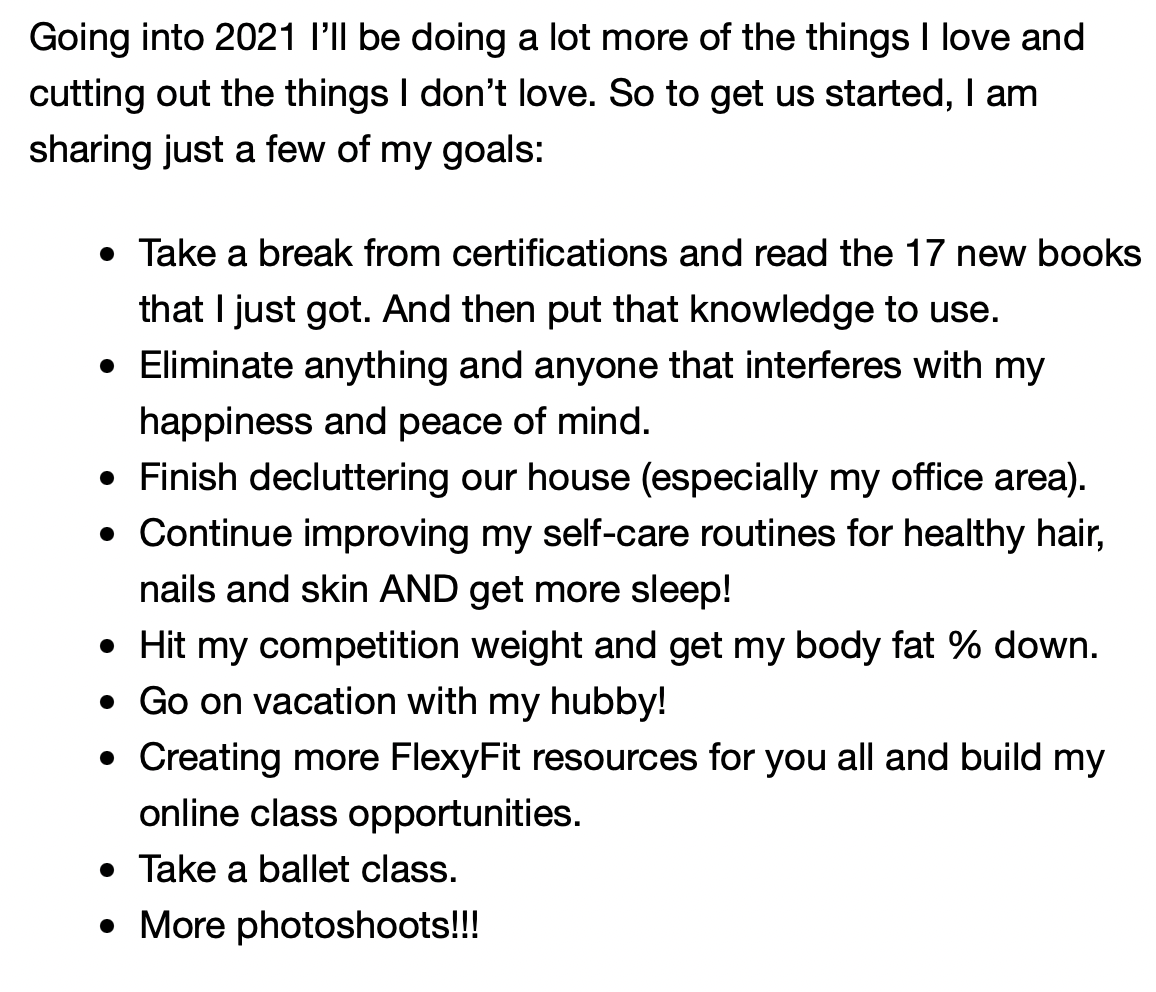 I'd have to say that I was mostly successful in achieving my goals, with a only a few tweaks/fails. One area that I surpassed was that I actually read 31 books..hoping to make that 32 by 11:59pm on 12.31.21! While reading was a focus, I did still manage to get a few new certifications, including Trapeze, Human Movement Specialist, Laypryders and Twerk.
I definitely made process eliminating clutter in my life and house!
On the vacation front, that ended up being a staycation, but I'm still going to claim it as a win! Ballet ended up being a Floor Barre class, but I met the most amazing instructor that I am happy to now call friend!
FlexyFit resources included: Aerial Ambition Branding and Marketing Guide for Aerialists, Intro To Pole Guide, bringing back Freestyle Friday,
My Basic As Fuck Series has expanded from static pole basics to now have modules for Spin Pole, Floorwork, Conditioning AND there's more on the way.
The only goal that I did not meet was my body goals. My weight fluctuated throughout the year around injures and life. What I did accomplish with my body, is some much needed vein removal treatments, which has already made a huge difference in the quality of my day-to-day life. I have two procedures left, and then I'm looking forward to getting back in the gym and hitting it hard, so that I can still accomplish my body goals.
A few other highlights include:
• Being a selected performer for the BGP + PSO #AmplifyMelanatedVoices Showcase Fundraiser
• Being a selected performer for Devour ~ A Night Of Pole & Dance In Place! Showcase Fundraiser
• PerformingTrapeze in two showcases with my Fly Black Aerialists family.
• Joining the Shine Fitness Studio team
• Working on my mental wellness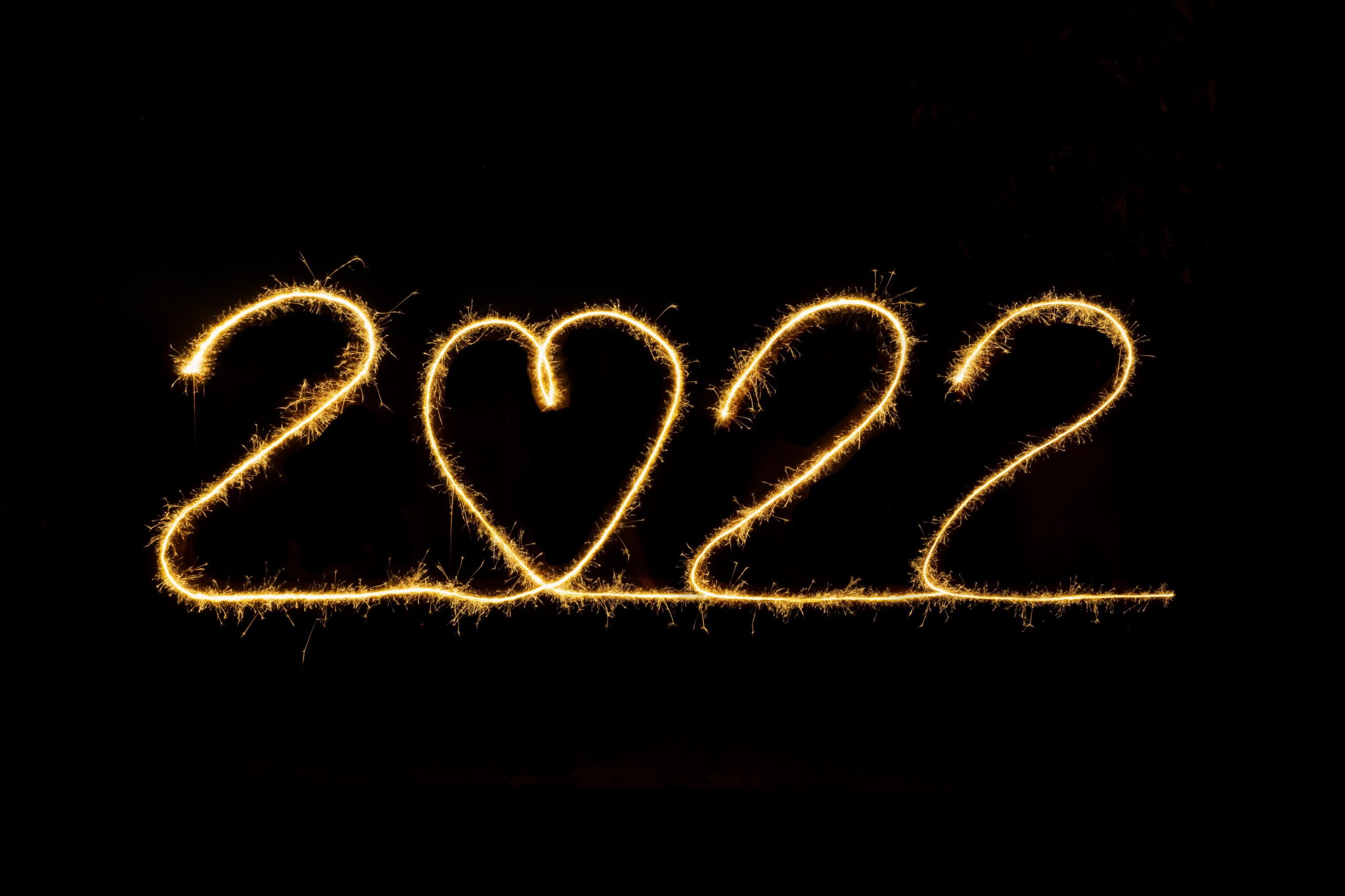 So what's in store for 2022?
I plan to be come a Master Nerd and Body Sorceress and find even more ways to use my knowledge, experience and expertise to help all of you reach your goals.
• Read 45 books
• Continue developing the Basic AF Series
• Body goals: get my weight down by 15lbs, muscles popping and move better.
• Make my training space the most amazing space ever!
• Learn Rope, Straps and grow my Hammock skills
• Develop more courses, guides and resources to help my FlexyFit community with their goals.