Fridays are for Flexing!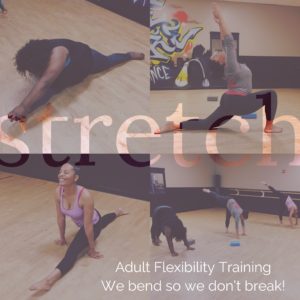 Yes, Flex Friday is EVERY Friday 7-8pm (In the event that class is canceled I will post, but that is RARE)
This adult flexibility class is open to all levels of FlexAbility. Yes beginners, that means you! No matter what your current level of flexibility, you CAN flex with us!
❓Heels can't touch your bum?
❓Can't bend forward and touch your feet?
❓Cant sit at 90° with straight legs?
❓Do your shoulders round forward?
❓Got that sexy hunch back?
❓Dreams of doing the splits?
No matter what your goal or area of struggle is, flexibility training can help! Whether you can't touch your toes (yet) or you're hoping for deeper splits and bridges, this all-levels class is for you! We'll be using a combination of active, static and partner work to get your muscles limber and ready to bend!!
Dress code: Pants required (NO shorts). I recommend dressing in layers to keep you warm during class! Leg warmers and socks are also encouraged.
📍Location: Clique Studios 2385 Midway Rd. Carrollton, TX 75007
Cost: $10 if you RSVP in advance or $15 at the door (exact change is appreciated!)
RSVP NOW


Please take a moment to read the class policies before you sign up.
Got Questions? Send me a message at: flexyandfit [at] outlook.com