You may not realize it, but tracking your pole journey is ultimate key in your development and success. If you haven't been keeping track of your progress then this is something that I highly suggest you start doing. It's hard to know where you're going if you don't know where you've been. Now I know that for some of us this [looking at ourselves] can be hard, but this practice is the only thing that is going to truly help us get better. Yes, this means that we must face the good the bad and the ugly! Too many times we tend to analyze our bodies and our flaws, so When you are evaluating yourself PLEASE try to focus on the execution of your tricks, the fluidity of your movement and your expression of emotion. However, do keep in mind that if there is something about you that you don't like you CAN improve it. Again, there's nothing wrong with you but there's also nothing wrong with wanting to make yourself the best that you can be.
Tracking your pole journey should be something that you do from day one, but if you haven't been then that's Okay because it's never to late to start. You can track your progress by photo, video or pole diary – I suggest a combination of all three. Pictures are a great way to capture those milestones and are super easy to share! Video allows you to see review from start to finish and you can evaluate the full execution of your tricks (entrance into, holding, and exit/transition out of). A written journal provides a great way to set and track goals.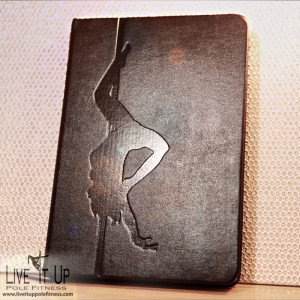 Since my start in pole I've had a few different note books and apps on my iPhone that I've taken notes in, yet nothing that was a comfortable fit for my pole needs. So naturally I was thrilled when I came across the LiveItUp journal designed especially for pole dancers. These journals are simply amazing! Maggie didn't miss a beat when creating them. The embossed cover is simple yet gorgeous and the pages are durable stock with ample area to record your notes. Oh…and it didn't hurt that the interior pages were pink (my favorite color!) What I love about this journal is that it breaks our journey into key sections: goals, video, music and practice log. Here's what each section entails:
Section 1 – Goals: Evaluate your progress and set short and long term goals for the future here. Then create a plan of action to acheive your goals.
Section 2 – Music: Take note of all the songs that make you boogie! Jot down own mood and performance ideas for each tune.
Section 3 – Video: This section is designed to log your YouTube uploads. Don't post videos? No problem, use it to take notes on videos you watch.
Section 4 – Practice Log: The largest section provides a place to log your pole practices. Fill in your own dates means this journal is equally perfect for the daily pole addict as well as the weekend pole warrior. The seperate Stretch and Flex area ensures you stretch after every practice.
Want to add this journal to your pole bag? Contact me for ordering details!