ASSLT Booty Bootcamp: All things Ass, Legs & Thighs!
Forget what you've heard about #squatbooty! Yea it's catchy and sounds nice, but squats alone will NOT build your butt. In order to have a well-rounded backside, you must engage in a well-rounded workout that includes, not just exercises for your butt, but also for your quads, hamstrings and low back. So if you're ready to lift and tone that derrière to create a peach that packs a punch, then ASSLT is just what you need!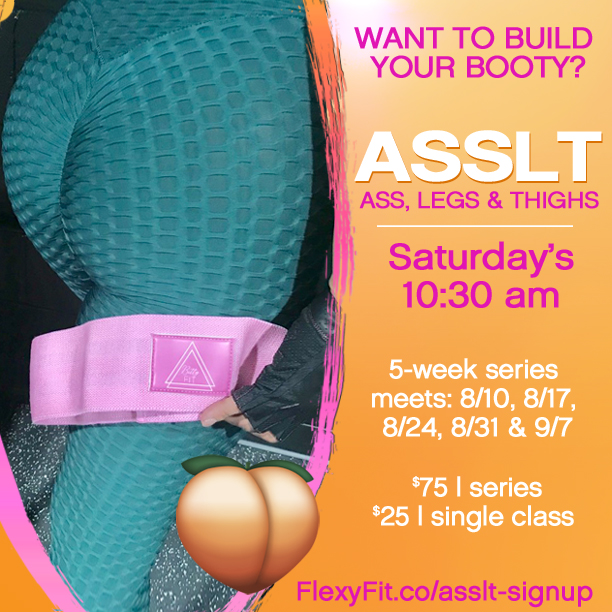 What is ASSLT? I'm glad you asked! ASSLT is a weekly booty bootcamp that specifically targets the lower body, focusing on all things Ass, legs and thighs! Whether you're looking to build-a-butt or just tone, tighten and strengthen, this 1-hour workout will help you get shaped up and peached out! For an added bonus, many of our workouts will also work your calves and your core muscles (abs, lower back, obliques).
DID YOU KNOW the Benefits of strong glutes include:
– Helps relieve low back pain
– Improves posture
– Helps reduce belly pooch
– Prevents injuries to knees, lower back and hamstrings
– Reduces hip flexor tightness
– Helps hips and pelvis stay in alignment during activity
– Improves athletic performance
– Looks DAMN good in a pair of jeans or boy shorts
So now that you know you have nothing to lose and everything to gain (well expect maybe some weight, but that's a double win!) what are you waiting for? ARE YOU READY to sculpt those legs and booty AND burn fat? If so, ASSLT is where it's at! Click the juicy pink button below to reserve your spot in class.
Still on the fence? Scroll down to check out the video and get a peek inside of ASSLT class.
When: NEW SERIES STARTS THIS WEEKEND! 5-week series. Meets Saturdays 10:30am-11:30am: Saturday 8/10, 8/17, 8/24, 8/31 & 9/7
Cost: $75 (for all five weeks) Pre-registration required. OR $25 single class drop-in
Answers to Frequently Asked Questions
What should I wear?: Comfy workout attire and running shoes.
What should I bring?: Water and a personal sweat towel. Yep, that's it! I supply all the equipment we'll use!
Do I need to eat before class?:YES! Be sure to eat beforehand so your body is properly fueled for the workout. Not sure what to eat? Read my tips here on:What to Eat Before a Workout
What to expect?: Lots of smiling faces, a warm welcoming atmosphere, a energizing warmup and all the lower body, leg sculpting, booty building drills your budding peach desires! 
📍Location: Studio Fit Performance 13360 Preston Rd. Dallas, TX 75240 (In between Hands On Approach Massage School and Guy Mezger's Combat Sports) 
Please take a moment to read the class policies before you sign up. Questions? Send me a message at: flexyandfit [at] outlook.com